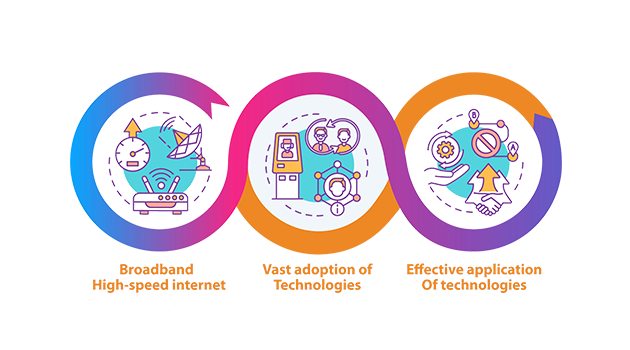 At Binary Solutions, we understand that broadband is a vital element of business and economic growth. Did you know that a 10% increase in broadband penetration lifts a country's GDP about 1.3 percent? (World Bank).
A broadband connection customized to your business's particular plans can help you become more flexible and supportive of your employee, customers, and supplies.
If you're not sure how a broadband connection  would suit your company, now is a good moment to contact us.
At Binary Solutions, we understand your broadband needs and will offer you with your business-specific broadband connection, that will help you become more adaptive to the needs of your employees, customers, and suppliers.

Type of Broadband Connections
Fibre

You'll be able to handle more activities in a shorter time period. With ultra-fast speeds of up to 940Mbps and the most consistent performance, fibre internet is an excellent broadband option in New Zealand.
The speed of your connection is influenced first by package you choose and the network setup whether be wired or WiFi. We recommend at least 100Mbps to get the most out of fibre.
Fiber with speeds of 100Mbps or 200Mbps is excellent for families that want to accomplish more things online, at once, without compromising on speed.
VDSL (Very fast Digital Subscriber Line)
VDSL is a high-speed broadband connection that can give speeds of up to 130Mbps. VDSL is now available to 80 percent of New Zealand homes and businesses as part of Chorus' network enhancements.
It gives most people an excellent experience, and if you have more than one person accessing the internet, there's normally enough to go around.
VDSL leverages a fibre platform to reach a roadside cabinet, then a copper network from the cabinet to your property. It still allows you a dedicated connection to your home.
Get / Up-grade Broadband Connection.
At Binary Solutions, we know that around 60% of New Zealand families and companies have a better broadband option than what they have now.
Calling us or contacting us to enhance your broadband connection is the quickest and easiest way to improve your internet experience.
A stronger connection gives fast speeds, improved quality, and a more delightful online experience, and it's straightforward to get at Binary Solutions. Depending on your needs, we provide a variation of plans and alternatives.
So to be sure what kind of connection you should have, contact us and we'll assess what kind of connection you required and the options you have.

Broadband Performance

It's a combination of elements, including your broadband package, the modem you use, the age of your device, the number of users online, and the capacity of your provider's network, that make up your broadband performance. Any unaccounted component from these could have an impact on your entire online experience.
The fact is that you have control over many of these factors.

WiFi Distance
A distance – between your WiFi Modem & the connected device can have impact on your WiFi performance.
Test
Connect to your Wi-Fi and do a speed test on your device from the location where you usually use it, then compare it to a speed test performed while your device is close to the Wi-Fi modem.
.

Old Devices
A device or software used can have impact on broadband performance – be an outdated modem or program.
Test
First turn off you all devices. Get a new device (Max a year or two old) and connect it to use the speed test to see if the performance changes or not ! Do the same test with your broadband modem too.
WiFi Interference
Signal interference can be caused by items transmitting signal through, like other networks, walls, distance, an electro magnetic devices, an electric fence etc,
Test
Conduct a speed test while trying to move around the interfering object, if any, and see if that improves the performance.